Description:
What low-carb snacks are good? There's a simple rule: The best low-carb snack is no snack.
That's right. Snacks are not really needed on low carb, as the hunger should go away when doing it right. If you're still hungry, you may want to add more healthy fat to your meals.
That said, we know that everyone wants a snack once in a while. So here are the greatest options, and a few common mistakes to avoid.
No preparation needed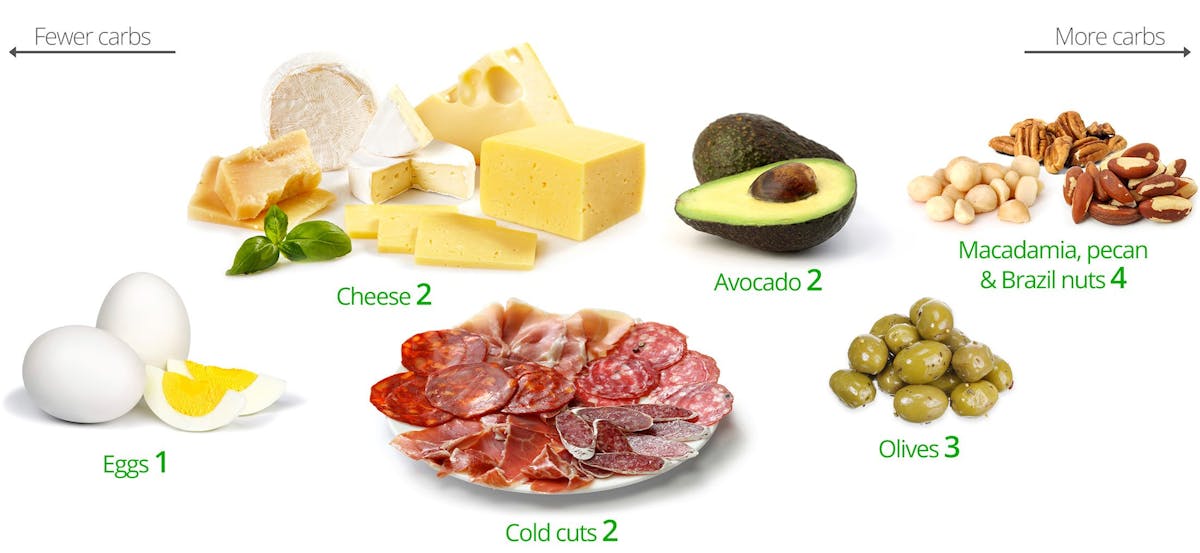 The numbers are net carbs (total carbs minus fiber carbs) in 100 grams (3.5 ounces.) That means that 100 grams of cheese contains 2 grams of net carbs.
Eggs are a great low-carb option. Keep a few hard-boiled eggs ready for when you need a perfect snack. Feel free to add mayonnaise.
Nuts are a low-carb snacks favorite. But be careful as the carbs quickly add up, especially if you eat cashews. Choose lower-carb macadamia, Brazil or pecan nuts instead.
Vegetable sticks and dip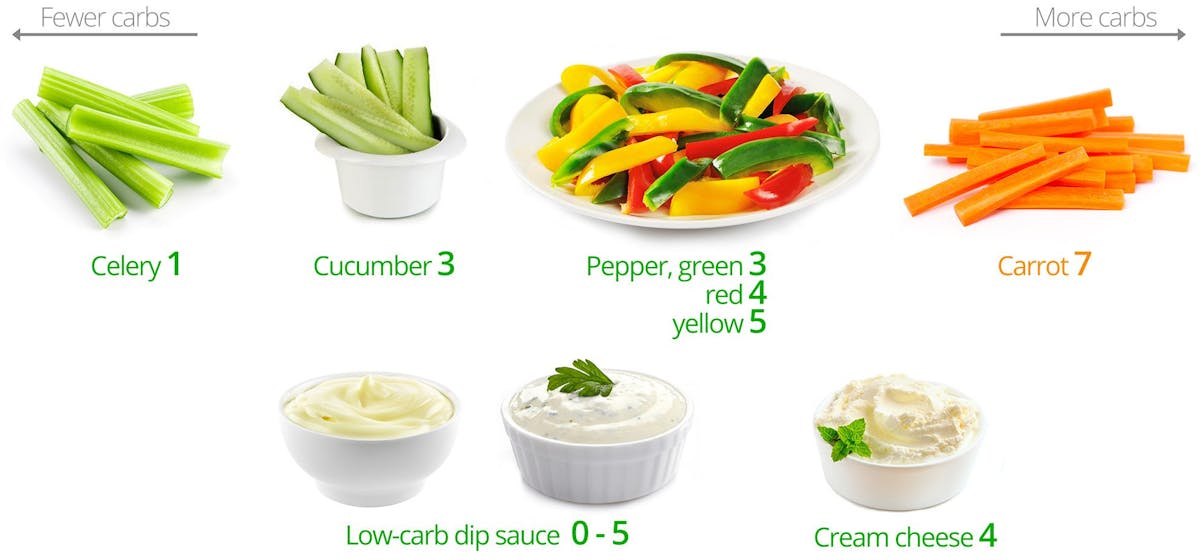 Numbers are digestible carbs per 100 grams (3½ ounces).Vegetable sticks are relatively low carb, except for carrots that have slightly more carbs.
Dip: Add cream cheese or any really low-carb and high-fat dip sauce.
Berries and cream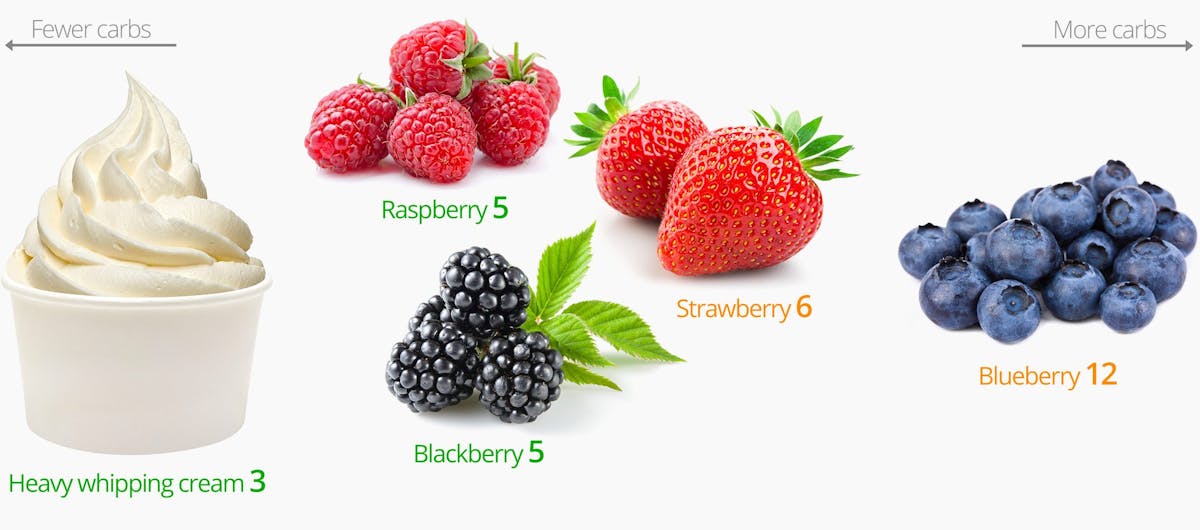 Berries are decently low-carb sweets. But if you're on a strict low-carb diet you may need to make it an occasional treat. Blueberries have the most carbs.

Heavy whipping cream – forget low-fat fake cream. Get real heavy whipping cream, ideally at 40 percent fat and definitely unsweetened (the natural sweetness is quite enough once you get used to it). Whip and have it with your berries. Note however that this is absolutely delicious, and it's easy to eat a lot of it when not hungry, slowing down weight loss. So try to not overdo it.
Chocolate
Digestible carbs per 100 grams (3½ ounces)

Chocolate is not low carb. However, you can occasionally get away with one or two thin squares of high-cocoa chocolate (70%+) even on a strict low-carb diet. On a more liberal low-carb diet you could do it regularly.
One small thin square (10 grams or less than half an ounce) of 86 percent chocolate contains about 2 grams of carbs.
Switch to 70% chocolate and you get about 3.5 grams per square.
Regular chocolate can be 6 grams of carbs or more per square – not an option if you want to stay low carb.
More options

Beef jerky: Note that almost all available commercial options have tons of added sugar, which is why a normal carb count is 9 grams per 100 grams (3½ ounces). Preferably mostly avoid this, or make your own.
Common mistakes on low carb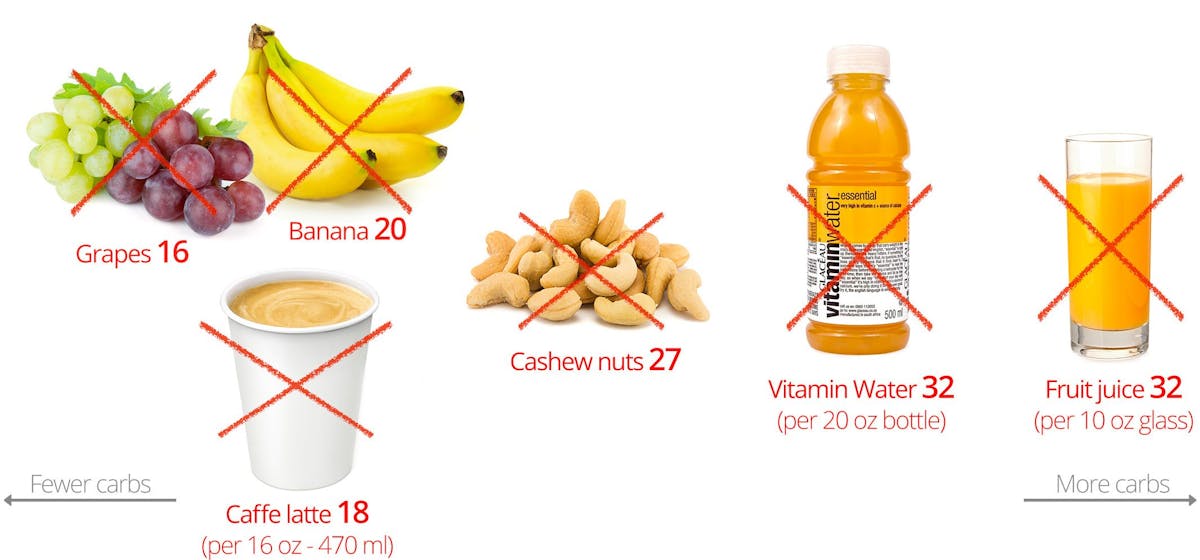 Caffe Latte: Note that there is a ton of milk in this, and milk is around 5 percent carbs (milk sugar). To keep the carbs low drink black coffee instead, or add (if you need to) a few teaspoons of milk or cream.
Juice and functional waters: These are full of sugar. Preferably avoid.
Fruit: Fruit is candy from nature and contains plenty of sugar. It's not nearly as bad as drinking juice, but fruit will still mostly have to be avoided on a strict low-carb diet. A more liberal diet allows the occasional fruit. Bananas and grapes contain the most sugar of all fruit.
Cashew nuts: These contain a lot of carbs (other nuts are a lot lower).
Worst/Terrible Options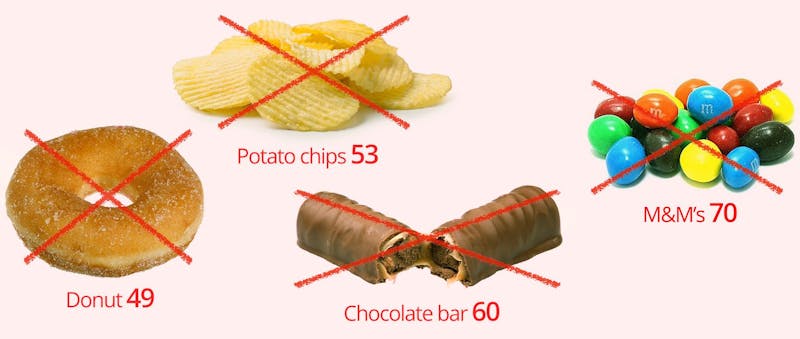 Of course these options are all terrible on a low-carb diet, as they are high in refined carbs and sugars. Avoid whenever possible.
Also be very skeptical of "low-carb" versions of chocolate, cookies etc. They are usually full of sugar alcohols and artificial sweeteners that raise blood sugar, make it harder to lose weight and maintain sugar cravings.
Instead, choose from the great simple options closer to the top of this page, or check out our awesome low-carb snack recipes below!
Top 21 low-carb snacks
Egg muffins. One of the best time-saving breakfasts of all time, hands down, and also a great snack.
Keto garlic bread. Deliciously crispy on the outside, soft on the inside and only 1 gram of carbs per piece.
Keto quesadillas. Cook up this Mexican-inspired appetizer ASAP. Decadent. Cheesy. And officially keto! Easy to make, tasty, and pretty enough to make you look like a celebrity chef. Serve them up as is or decked-out with sour cream, guacamole, and salsa. Olé!
Sesame crispbread. Do you love to sink your teeth into something crunchy now and then? Then this is for you.
Cheese chips. Looking for a crunchy chip to snack on or to enjoy with guacamole or dip? This two-ingredient fix will keep you satisfied!
Onion rings. Make your own low-carb and gluten-free onion rings in the oven – simple and delicious.
Tortilla pizza. These mouthwatering mini-pizzas are as big on flavor as they are low in carbs. In just a few minutes you'll be snacking on a gooey pizza loaded with all the lip-smacking stars of this Italian classic.
Creamy keto shrimp tacos. Why should taco fillings have all the fun? In this recipe, the cheesy taco shells share the starring role with shrimp in a luscious cream sauce.
Salami and cheese chips. A crunchy low-carb snack that only takes minutes to prepare. Salami and cheese in a delicious combination. Perfection!
Zucchini chips. Do you miss potato chips on a low-carb diet? Now you don't have to. You'll need several zucchinis for a bowl of these chips, but they are truly delicious!
Cinnamon and cardamon fat bombs. Small, but delicious. Here's a treat if you need a satiating snack and LOVE butter!
Low-carb granola bars. A healthier and lower-carb option to all the sugary bars out there. Make your own bars with nuts, seeds, healthy fats and truly dark chocolate.
Cheese roll-ups. It's perhaps the fastest, most simple low-carb snack you can make – and it tastes great. Cheese roll-ups are perfect as a low-carb snack that you'll make in just a few seconds.
Cheddar cheese and bacon rolls. Cheese and bacon! What's not to love? This awesome keto snack is easy and quick to make.
Kale chips. Do you want healthy and tasty green chips with very few carbohydrates? We usually have kale in the holiday season, so we made some and found that they were quite tasty.
Eggs on the go. Here's an inspiring way to take your eggs on the road! With so many ways to prepare eggs, this one ups the fun factor, with optional, creative filling choices. Egg-cellent!
Bacon-wrapped halloumi cheese. These wonderful salty treats can be served as a snack or an appetizer. Serve them on top of your favorite vegetables and leafy greens and you'll have a delicious and filling salad.
Recommended cautions for Sweet things
While the sweet recipes below are low carb, they are also very rewarding and tempting. They may encourage eating when not hungry, and that will always slow your weight loss. So be a bit careful.
However, these low-carb recipes are still way better for your weight and health than high-carb versions of similar recipes.
Credit to: Dr. Andreas Eenfeldt, MD
To enjoy further the Keto Liftstyle/Journey, we would be glad to join our active Facebook Page with lot of activities like sharing market products of Keto friendly and based on group members experiences, the beginners are getting fruitful information about those products to use or stay away from them. Keto Quiz, frequently asked questions and much more stuff…
Not intended for the treatment or prevention of disease, nor as a substitute for medical treatment, nor as an alternative to medical advice. Before making any major lifestyle changes, be sure to consult with your doctor to see if these changes are right for you.

Detailed Guide about relationship of Carbs with our blood sugar
Ketogenic Diet Foods to Avoid: Foods which can slow fat loss