Super Tasty Low Carb Chocolate Fudge Cake | 1g Net Carb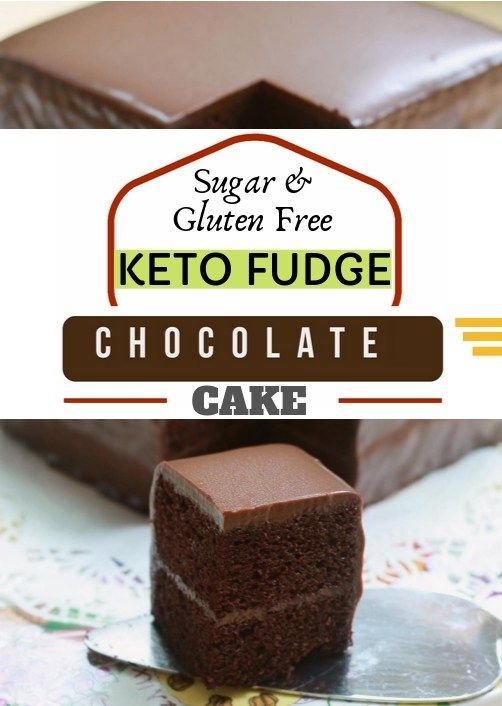 Description :
This Chocolate Fudge Cake is a lifesaver on the Keto Diet for chocoholics & it is an absolute necessity on the keto diet. It is not necessary that every dessert that is labeled keto actually tastes good but I am quite sure that if you will give this one a try, it will quickly become a favorite recipe of yours. Doesn't that look drool-worthy? And think, it's keto, low carb, and sugar-free.
I use very low sugar cocoa powder that makes it super dark in color and amazingly fluffy. We have already shared super tasty and easy the ketogenic recipes of Keto Chocolate Flourless Cake & Low-carb Chocolate Zucchini Cake, Keto NO BAKE CHOCOLATE CHEESECAKE, Keto Espresso Chocolate Cheesecake Bars and this chocolate fudge cake is an amazing addition to that recipes. This is absolutely the best chocolate thing I've had on keto.
Furthermore, the frosting on top is very much like a fondant you find on those premade cakes at the grocery store. It is lovely with or without the frosting. I always verify first about the macros when I calculated them. Because this is one of the best desserts I've ever had and it has one 1g Net Carbper slice.
I would love to recommend this recipe to all Keto Diet/Low Carb Diet lovers.
Ingredients :
| Cake |—>
1/4 cup Almond Flour
1/4 cup Coconut Flour
1/4 cup Sweetener (Better to use Erythritol)
1/3 cup Cocoa Powder
1/2 tsp Baking/Bicarbonate of Soda
1 tsp Baking Powder
1/4 tsp Salt
1/3 cup Coconut Oil, soft
1 tsp Vanilla Extract/Sugar-Free Syrup
2 Eggs
2/3 cup (158ml) Water
| Frosting | —>
1/2 cup Butter
85g (3oz) Dark Chocolate, chopped, 75% or higher (I used Lindt 85%)
1 tsp Vanilla Extract/Sugar-Free Syrup
3 tbsp Sweetener
Instructions —>
Preheat oven to 175C/350F.
CAKE: In a medium bowl, add almond flour, coconut flour, sweetener, cocoa powder, baking powder, baking soda, and salt. Mix well.
In a large bowl, mix coconut oil, eggs, vanilla, and water. Make sure to beat it well.
Slowly add your dry ingredients to your wet mixture and mix well.
Pour mixture into a well-greased square pan (about 8×8).
Bake for 20-25 minutes or until a toothpick inserted into the middle of the cake comes out clean.
Set cake aside and leave to cool.
FROSTING: In a microwave-safe bowl, melt your butter. Add chocolate and leave to melt (about 5 minutes).
Add sweetener and vanilla and stir well. Then place in the fridge until cooled. Once they are cooled, then mix with a whisk or fork to make it slightly fluffy.
When your cake has cooled, spread with the frosting. Cut into 16 and enjoy.
Nutritional Facts
Total Servings: 16
Nutritional values Per Slice: Calories: 230kcal | Fat: 22g | Protein: 4g | Net Carbs: 1g
Yield: 8 servings
Ingredients
1 1/2 cups fine almond flour
1/4 cup cocoa powder
2 tbsp dutch cocoa or additional regular
2 1/4 tsp baking powder
1/2 tsp salt
1/3 cup water or milk of choice
3 eggs, including the vegan option listed earlier in the post
1/3 cup granulated erythritol or regular sugar
1 1/2 tsp pure vanilla extract
Instructions
*For a double layer cake, simply double the recipe and bake in two 8-inch pans.
Preheat oven to 350 F. Grease an 8-inch pan, or line with parchment.
Stir all ingredients together very well, then spread into the pan.
If needed, use a second sheet of parchment to smooth down.
Bake 14 minutes on the center rack.
Let cool completely before frosting.
Nutrition Facts
(Based on 8 slices)
Calories: 130
Total Fat: 9g
Saturated Fat: 0.9g
Sodium: 175mg
Total Carb: 6g
Net Carbs: 2.7g
Dietary Fiber: 3.3g
Sugars: 0.2g
Protein: 6.9g
Weight Watchers Smart Points: 4 points per slice